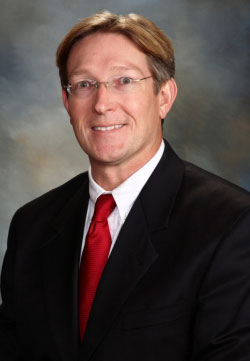 We gladly and routinely work with all area ophthalmologists. Also, Daniel R. Osborn, M.D. from the Missouri Eye Institute in Springfield, MO visits our Marshfield office monthly to evaluate our patients with certain eye conditions that may require more specialized care. This service provides an added convenience to our patients who find it difficult to travel to Springfield.
Dr. Osborn, one of the most experienced cataract and refractive surgeons in the region, has practiced full time in Springfield since 1996. He has been recognized as introducing IntraLase Bladeless LASIK surgery, a no-needle topical anesthesia for cataract surgery and the most modern corneal transplant surgery in the Ozarks. His specialty areas include refractive and cataract surgery and corneal transplants. Additionally, he has been appointed by Missouri Governor Jay Nixon to the State Board of Registration for the Healing Arts.
Dr. Osborn attended Indiana University School of Medicine where he distinguished himself as one of the top 10 percent of medical students, became a member of Alpha Omega Alpha Honor Medical Society and served as Chief Resident during his training at the Indiana University Department of Ophthalmology.
Dr. Osborn is certified by the American Board of Ophthalmology. He is a member of the American Academy of Ophthalmology and the American Society of Cataract and Refractive Surgery. In addition to regularly providing educational seminars for regional optometrists, he serves as adjunct faculty and preceptor for University of Missouri-St. Louis' Optometry School.